Friday Finds
I just wanted to give a shout out to some great resources that I have seen lately.
First the
Make A Bag
series at
ikatbag
. Holy Uncontrollable Detail, Batman! This series of post goes into amazing detail on bag shapes, straps, finishing and linings with more posts on the way. It is not a series of tutorials, but an in depth discussion on bag theory so that you will be able to design and make your own bags. You will want to keep reading even after the series is over to see the incredible things she makes for her kids from
cardboard
. The woman is amazing! And a hoot to boot.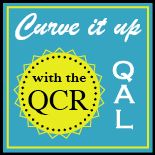 The Curve it Up Quilt Along with the Quick Curve Ruler has been going for awhile, but I want to order a ruler and jump right in.
Look at the latest block they made in the series - The Curve it Up Log Cabin - tutorial found here. I think I am in love! Check out the flickr group for more pictures. Links to the block tutorials can be found in the flickr group discussion or on the side bar of Jenny's blog Sew Kind of Wonderful.
What great things have you seen lately?